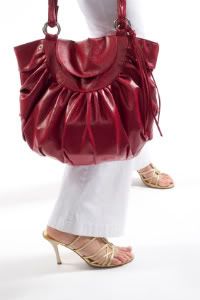 A neat and well-stocked purse can actually keep you more organized, not to mention cool, calm and prepared.
Here's what I recommend:
Empty out the contents. Yep, dump it out.
Divide up the space. In the large section of the purse, things just get jumbled up together with lint, crumbs and hair – ew! Instead, use clear zippered pouches to divvy up your purse's contents by type (health, beauty, office supplies, etc.)
Reserve one section of your wallet exclusively for coupons and gift cards so you can find them quickly and avoid angering the people in line behind you.
Punch some holes. Spare your already-packed wallet by putting your membership cards on a ring.
Get a notebook for notes and lists. Choose a durable notebook that will stand up to being knocked around in your bag. I use this one which has an elastic band closure so the pages are protected. What to do with it? Rather than writing stuff on random bits of paper which will get lost and clutter up your purse, jot them all into your notebook instead. Bonus secret sanity saver: Put TODAY'S DATE and a TITLE on your notes (Examples: "Things to ask the doctor" and "Meal planning ideas"), so you won't have to think too hard to remember what the note is about!
Pimp out your keys with this pull-apart key ring, which allows you to detach the house keys from the car keys with ease.
Deal with receipts. Keep purse clutter to a minimum by sorting out your receipts as soon as you get home each day. Recycle receipts you no longer need and file the ones you need to keep.
Keep your purse stocked by replenishing as soon as you run out of something.
What's in Crystal's wallet right now?
Keys on a pull-apart key ring (car keys on one side, house keys on the other)
iPhone (doubles as camera, planner, calculator, MP3 player)
Wallet/checkbook
Prescription sunglasses in a hard case
Notebook for jotting thoughts, lists, etc.
2 pens, 2 Sharpie markers
Gum
Lip balm (qty 2)
Small tube of SPF 55 sunscreen
Hand cream
Comb, travel-size hairspray, hair barrettes and headband
Lipstick and lipgloss
Powder compact
Pill box like this containing Ibuprofen, acetaminophen, Pepto Bismol
Cough drops, Bandaids, pocket tissues
Dental floss
Eye drops and cleaning cloth for eyeglasses
Feminine supplies
Reusable Chico grocery bag that folds up teeny tiny
Cuticle nippers, nail clippers, cuticle cream, nail file
Luna bars for hunger emergencies
Thoughts on this? Other ideas? Post a comment, or write to Crystal and let her know!