My dad was in town last week to help me do some home improvement projects, one of which was tiling the master bathroom.
Yikes! I had never done tiling work before, and Dad had limited experience too.
Luckily, the nice people in the warehouse area of Best Tile hooked us up with everything we needed, including how-to instructions and some really good tips. Hint: the clearance section of the warehouse is where you can find very fancy tiles at very low prices.
The project was definitely a good challenge for us, but not as hard as we thought it would be.
BEFORE photo of the old yucky vinyl. The hole in the floor is where the toilet goes. Dark blob at bottom of the picture is my Dad's back.
AFTER: Beautiful glass mosaic and Italian porcelain tile!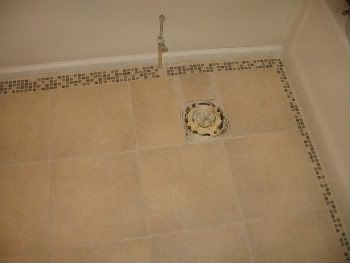 Here's a closeup of my handiwork:
Thoughts on this? Other ideas? Post a comment, or write to Crystal and let her know!