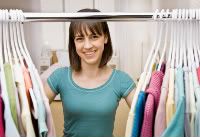 It's a good idea to organize your clothing closet at at least twice yearly. Haven't done it in a while? Set a date to organize your closet this spring!
Here's a list of closet maintenance tasks to consider:
Retire the old. Is anything permanently stained or completely worn out? Remove them from the closet. Donate any items which are still wearable and re-purpose what isn't. For example, old socks make chew toys for dogs and t-shirts become great cleaning rags.
Be honest about what fits you. If it doesn't fit you now, and it hasn't fit you for the past calendar year, it probably never will. It's time to let it go.
Examine what you wear most frequently in terms of style and fit. There's a good reason that your favorite pair of pants are your favorites. The more you learn about your own likes/dislikes, the better you'll become at shopping effectively for yourself next time.
Get seasonal. Box up wintertime clothing such as wool socks and bulky sweaters, clearly label the boxes, and store them in an accessible area of the attic, basement or garage so you can pull them out again next fall.
Tidy up. Neatly fold and stack your casual wear. Dressier items like slacks and blouses should be ironed and hung up. Facing clothing the same way and hanging them on quality, matching hangers will create a sense of uniformity and order. For more ideas on organizing your clothing, check out my article called An Organizer's Closet, Revealed!
Thoughts on this? Other ideas? Post a comment, or write to Crystal and let her know!