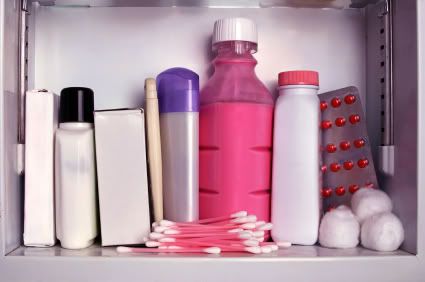 Jennifer Chait's blog Declutter It! includes this handy post with the four steps to sorting out your medicine cabinet. She says,
1. First take everything out – use this time to actually wipe down the medicine cabinet interior. Plus you'll finish the job all at once if everything is out.
2. Get rid of totally obvious stuff like expired meds, then locate the not so obvious. By not so obvious, I mean check out each container and make sure nothing has gone bad. No funny colors or smells, no cracked bottles, no liquids separating. Toss anything odd.
3. Recycle or safely toss your containers and the medication in them. To learn more read, How To Recycle Prescription Bottles.
4. Move all your medicines, cosmetics, and other items back where they go, and give your child safety latches a once over (if you have kids).
To this, I would also add:
Sort through your medicine cabinet at least twice per year.
Consider moving prescription medicines to the kitchen or other location, as the heat and humidity of bathrooms can affect the potency of the drugs.
While you're at it, check your home first aid supplies to make sure they're stocked and ready for you and your family. I keep these first aid supplies in a box labeled "First Aid" in the hallway closet.
Have additional thoughts or ideas to share? Leave a comment, or write to Crystal and let her know.