Here's where I reveal all! Check out the photos of my own hallway closet.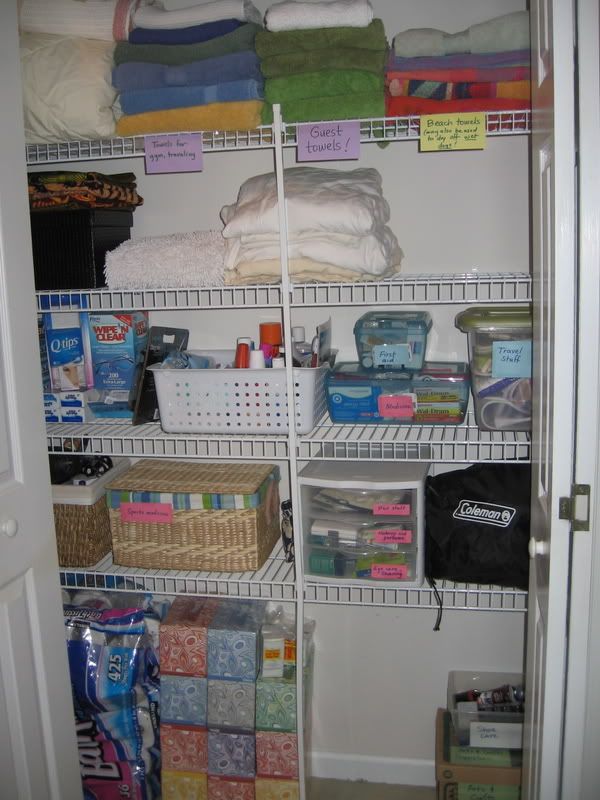 Household items I keep in my hallway closet (from top to bottom, left to right) include:
Blankets
Towels
African cloth that I use for table cloths and wall hangings
Bath rugs
Sheets (You only need one extra set per bed at the very most!)
Stock of toiletries such as soap, deodorant, toothbrushes and Q-tips
Medicines
Travel stuff (means toiletry pouches, mini travel iron, travel-size toiletries)
Basket holding hair dryer, hair products and brushes
Sports medicine (Ben-Gay, cold packs, etc)
Sewing kit
Hair accessories, makeup, eye care and shaving items
Coleman inflatable guest bed
Toilet paper, Kleenex
Shoe care items
Envelopes
Arts & craft supplies
Inexpensive plastic drawer sets come in handy for small items.
Shoe boxes come free with each pair of shoes you buy, and they make great organizing containers!
(Lots of Kleenex: is it obvious that I love Costco?)
Prominent labels for piles of towels are useful for directing a confused husband. These were made with index cards and packing tape. Simple but effective.
Have additional thoughts or ideas to share? Leave a comment, or write to Crystal and let her know!
Tomorrow: Crystal shares photos of her clothes closet!