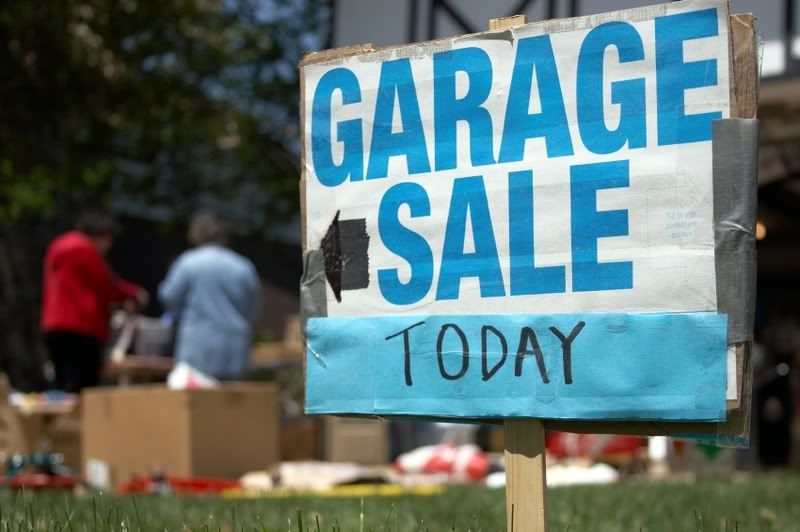 On Sunday morning I assisted one of my clients and her family with a huge garage sale at their home. It was hard work but rewarding for everyone involved. The highlight of the day was getting rid of so much of their clutter!
As the end of the summer draws to a close, you may wish to consider having a garage sale of your own.
Here are 12 useful things I've learned from experience about successful garage sales:
Make sure you're allowed to have a garage sale in your neighborhood. Some home owners' associations (HOAs) or other types of neighborhood communities have policies against them.
Set a date. Saturdays are generally better than Sundays. If you do choose to sell on a Sunday, consider that you may have two major waves of customers before and after church hours. Three to five hours of time is a reasonable length of time to carry out a successful garage sale.
Prepare in advance! Prior to the big day, move the items you wish to sell into the garage. Make sure they are clearly marked so as not mix sale merchandise with non-sale items. Organize and arrange the items as much as possible well in advance of the sale to save yourself precious set-up time on garage sale morning. (See presentation tips in section, below.)
Assemble materials and supplies you'll need for garage sale day. See the handy list in the section below!

Create signs! Signs are the best advertisements for the sale – if possible, use poster board and wooden stakes, as well as concise language and very clear lettering indicating What, Where, and When. It is also useful to note key items for sale. Example, "Huge Moving Sale Saturday, August 16th, 8 AM to Noon at 1234 Oak St. – Furniture, Housewares, Books and More!" Place signs on the main road with arrows indicating where to turn. Consider adding balloons to attract even more attention.
Advertise for free on your local Craigslist site, and alert your friends/acquaintances about the sale by e-mail at least a few days in advance.
Make a post-garage sale plan. Before the garage sale takes place, make a plan for what to do with the items that don't get sold. Some charities will pick up donated items from your house.
Enlist helpers. Don't try to have a garage sale by yourself! It takes at least two people to monitor the merchandise, run errands, answer questions about the merchandise (including assigning prices), move furniture to people's cars, and handle the money.
Price as much of your merchandise as possible. Most shoppers, even the hardest of bargainers, like to have price information. A rule of thumb: giving the items any price at all is better than no price. If you are struggling with the pricing, remember that you can always price something as "$25 or make an offer". Make it easy on yourself by labeling entire sections of items with one price. (Example: "Skirts, pants and blouses $1.00 each; Suits and dresses $2.50 each") If you mark down any items, do so clearly with a red slash through the original sale price. (See also section on haggling, below.)

Display the goods in a way that maximizes the shopping experience. Presentation sells! (See handy tips below for how to display garage sale merchandise.) Block off any areas you don't want shoppers to enter.
Think about how you will handle the money. Decide in advance whether you will accept checks. If not, post a sign to let shoppers know that the sale is cash only. Keep your cash box in a secure area and never leave it unguarded. Throughout the day, remove the profits and place them in a secure location.
Relax and have fun! Remind yourself of the goal of your garage sale if panic or stress sets in. At least one of your main objectives (if not the only one) should be to reduce clutter and to gain a sense of freedom from too much stuff! Of course, making a bit of money while you're at it is nice too.

Additional advice:

Expect that people will haggle with you. Most garage sale shoppers are looking for a bargain. Plan to give them a discount off your tagged price; thus, account for this discount in your initial pricing. For example, I might price an item as $7.50 when I will actually take $5.00 for it. At the checkout table, I also find it effective to calculate the total cost of a customer's items (particularly when they have many items), and then give the person a discount off their grand total.
Some materials and supplies you'll need to assemble for the big day:
Cash box (a makeshift one will do – e.g., on Sunday we used a small ice chest with a flip-top lid and plastic food containers inside for the cash);
$50 worth of ones, fives, quarters and dimes. A bank can help you with this;
A checkout table where customers pay for the items they buy;
Cardboard boxes, shopping bags and newspaper to package items at the checkout table;
Notepad and pen for tallying sales and creating receipts, if necessary;
Plenty of surfaces for displaying the merchandise Examples include folding tables, sawhorses and plywood, bookcases/shelves, etc;
Batteries, lightbulbs, outlets and extension cords so customers can test the electronic items;
Index cards, markers and tape for creating description/price tags; and
Aprons are handy for garage sale staff. You can keep calculator and extra price tag supplies in the pockets.
Presentation sells! Here are some tips for displaying your merchandise:

Group items into "departments" such as books, clothing, sporting goods, household,  etc. This provides a convenient shopping experience and adds to the perceived value of the items.
Whenever possible, label the items with as much information and history as you can. If you don't have much information, make your labels interesting and intriguing. Examples: "Handwoven wool hats from Bolivia, c1952 – $3.00 each", "Mysterious wooden chest, $10.00", and "Plug-in disco lights – great for teenagers! $5.00 each"
Selling used clothing is already challenging, so make it easy on your customers by hanging clothing on a rack or tight clothesline. I do not recommend selling clothes from piles or out of boxes!

Place furniture near the entrance to the sale – larger items draw people in!
If you run out of tables and shelves upon which to display your items, get creative. Remember that sheets and tarps are also great places to arrange merchandise.
Consider accessibility – organize sale items in a neat and orderly way. Be sure to leave space for people to walk.
Play music – fun, upbeat tunes sets a shopping mood for your customers.
Let your kids sell snacks to shoppers, or invite the local taco truck or ice cream man to park at your garage sale.
Show your customers how things work. If possible, plug in light fixtures. Clearly mark any damaged items, including labeling them "as is" if you're unsure of how well an item works.
Have more ideas to share? Post a comment or write to Crystal and let her know!