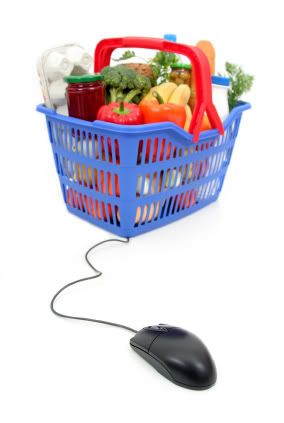 Meal planning, using Backpack's "Writeboard" function, is just one of the many ways I use a Web site called Backpack to organize my whole life.
The solution: My husband and I are trying to eat dinner at home more frequently (to save money and eat healthier!). Of course, grocery shopping and meal planning take effort and organization. That is where our meal planning page on Backpack comes in handy. We collaborate using Backpack's Writeboard feature, which is an online writing space that two or more people can share and edit.
How it works: I might decide to volunteer to cook Monday and Saturday evenings of the upcoming week. So I log in to Backpack from home on Sunday and note on the Writeboard what I plan to cook for those evenings. I also list what ingredients we'll need to buy at the Farmer's Market or grocery store. I can even include a link to the recipe, if applicable. He'll do the same for his cooking days, say, while he's at work the next day. We can also make note of who will go to the grocery store, and whose turn it is to clean up the kitchen each night.
The end result is a comprehensive meal plan for the whole week, including menu and shopping reminder list, which we can either print out or access from work, home or on an iPhone!
Here is an example to show you what our meal planning Writeboard on Backpack looks like: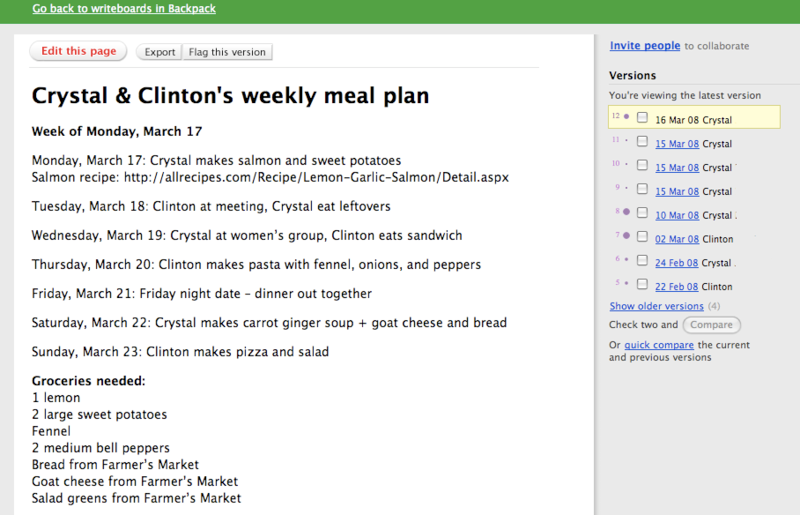 Have more ideas? Post a comment, or write to Crystal and let her know!
Next: Tomorrow is Part III in a series on HOW to use Backpack to organize your whole life.