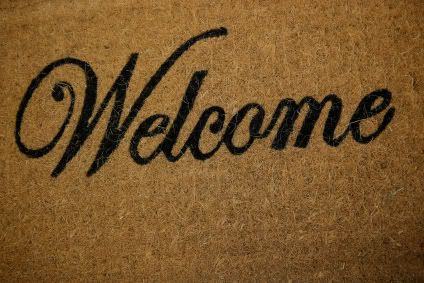 Here are simple things you can do to make each room of the house more comfy and inviting when guests are on their way:
First…
Ask your guests ahead of time if there are any particular activities they'd like to do while in town. Then make arrangements in advance (purchase tickets, make reservations, etc).
Make a copy of your house key for their convenience.
Clean and well-stocked bathrooms
Start with clean counters, toilets, floors, tubs and shower walls.
Add a stack of extra clean bath towels, and hang a hand towel near the sink.
Fill a basket with extra toiletries that guests will appreciate (e.g., cotton swabs, hand lotion, tissues, air freshener).
Arrange magazines in a basket near the commode.
Add a vase of fresh flowers near the sink.
Kitchen
Clean out the cupboards. Make sure the cupboard where you store your glasses is free of dust and crumbs. Invest in a rubbery liner for this cupboard; it makes a big difference! Do the same for the drawer where you store your eating utensils.
Stock up on snacks. Fresh fruit and granola bars are nice to have as quick snacks to offer your guests, as are pitchers of juice and iced tea.
Make sure you have cooking staples. If you have plans to cook dinner for your guests, stock up on cooking staples (e.g., olive oil, garlic, onions, lemons).
Procure coffee and tea supplies. Coffee and tea drinkers in the house? Assorted tea bags, fresh coffee grounds and a clean coffeemaker are essential. If they take cream and sugar, add these things to your grocery list too.
Guest room
Clear the clutter by moving junk to the garage, attic or basement.
Empty out a drawer or two for guests to use, and move clothes out of the closet so they have room to hang up their items.
Make up the bed with fresh sheets, and provide an extra blanket and an assortment of pillows with silk pillowcases.
Stack interesting books and magazines near the bed.
Add a lamp. Make sure they have a light near the bed for nighttime reading.
Place earplugs and a sleeping mask in the bedside table.
Plug in a nightlight in the hallway so guests can find their way around.
Lawn and entryway
First impressions are important! Consider doing the following:
Mowing the lawn
Trimming the unruly parts of your front yard hedges
Sweeping the front porch and front steps
Oiling the squeaky screen door on your front porch
Purchasing a welcome mat for the front door
Ensuring that the entryway/foyer is clean and tidy
Other ideas
Front door organization. Consider installing an attractive set of hooks next to the front door, as well as a dry erase board for messages. Use the hooks for dog leash, keys, hats, coats, umbrellas etc.
Sweep the debris off the back deck. Arrange outdoor seating around a table, to include a pot of flowers and an outdoor candle. This will make a cozy conversation area to share with guests or to relax in when you need a break from family!
Have additional thoughts or ideas to share? Leave a comment, or write to Crystal and let her know.